Reliable Tree Removal Services in Brentwood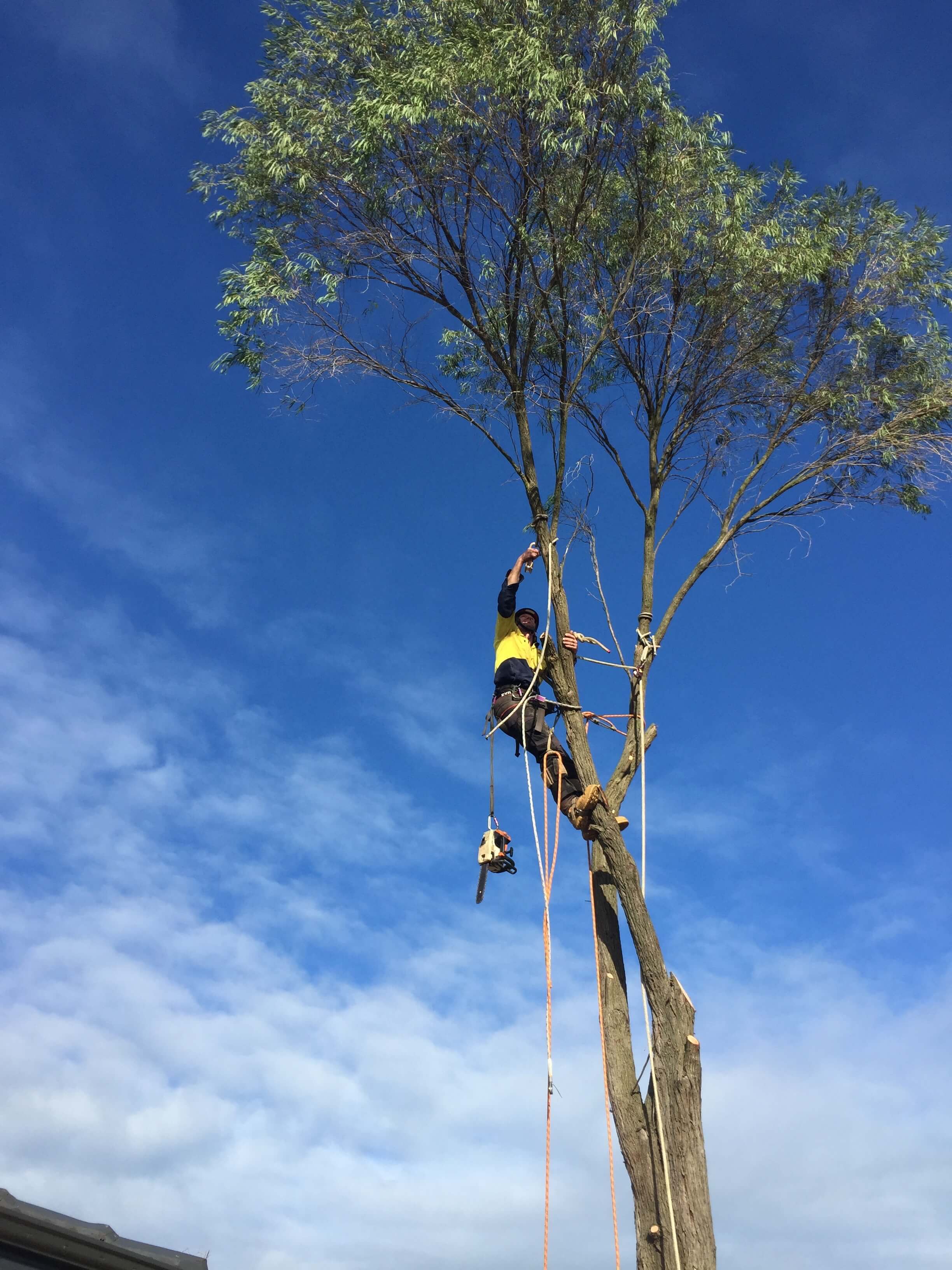 At Ace's Tree and Garden Service, we provide our clients with top-level arboreal care and guaranteed respect to all our clients. From general lawn to specialised tree removal, reduction, thinning, and more, we are your source for tree removal in Brentwood.
Tree Removal Services
As arborists, we do everything we can to keep the trees on your property healthy and prosperous. But sometimes, a tree service requiring removal becomes necessary and unavoidable.
You may need one or multiple trees removed from your personal or business property for various reasons.
Sometimes they can cause damage to the property by growing too large, posing a risk to nearby electric lines or building structures.
At other times, they may become damaged by storms and may need to be removed to prevent dangerous falling branches. There are also instances when the entire tree itself becomes infested and rotted to the core. Then, it needs to be taken out before it falls or before it spreads the disease to other nearby trees.
No matter the cause, at Ace Tree and Garden Service, we have the tree service equipment and care necessary to safely remove the tree from your property.
Give us a call for tree removal in Brentwood and one of our arborists will come out to consult with you on whether removal is necessary.
Reduction Services
If you are a developer or homeowner with a tree-filled backyard, making the right decisions can be tough. Our reduction tree service may be exactly what you are searching for. Reduction simply cuts down the size of the trees through various pruning and cutting techniques.
This technique can lower the risk of possible damage, increase the amount of sunlight on the property, and provide more visibility to the property without removing the tree itself.
We value our work and can reduce any amount of trees on your property whether they be large and aged or just a few small trees. We'll leave your property with it looking cleaner and sharper than ever before!
Thinning Services
For those of you who are happy with the number and size of trees on the property, but want them to look more lively and fresh, our thinning services are perfect for your needs.
Our thinning tree service involves trimming dead or dying branches. At Ace, we check each individual branch and trim no more and no less than needed, leaving your trees looking full and alive.
Are You Looking for Quality Tree Removal Services Near You?
Are you looking for quality tree service near you? We guarantee that our services will be completed with the top level of care. We ensure that each removal project is completed on schedule from the start of the quote all the way to end.
Our staff is full of certified arborists who care about your lawn and trees just as much as you do!
In addition to our years of tree service experience, we take pride in our all-encompassing customer service. When we complete your project, we will clean up all of the dirt and mess. We are friendly and personable and will leave your project with a clean-up that you will be beyond happy with.
Contact Us Today!
If you're looking for reliable and quality tree service, whether it be trimming, thinning, or reduction, contact us today!
Proudly Serving Brentwood
Brentwood is a suburb of Perth, Western Australia which is located within the City of Melville and approximately 10 km from Perth. Brentwood was developed as a state housing suburb after World War 2 and is named after Brentwood, an English town near London which was the birthplace of John Bateman, a pioneer settler in the area.
Ace's Tree and Garden Service has been serving Brentwood residents since starting up and has become a leading provider of tree care and gardening services in the area and surrounding suburbs.
Get An Obligation Free Quote Today!