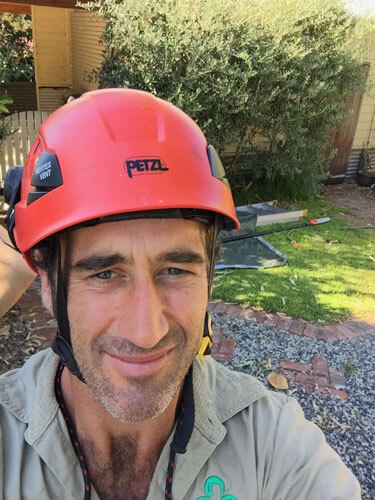 Ace's Tree and Garden Service provides a competitive quote, BUT prospective clients should be aware that we cannot always provide the cheapest quote – and for a very good reason. Anyone who has used one of the many unqualified 'butchers' will know there is a world of difference in the quality of service offered in the W.A. tree industry.
Beware: Cheap quotes are a good indication of what kind of service you can expect and the damage to your trees and property can be costly and irreversible.
Naturally you want value for money – but accepting the cheapest quote rather than the "best value" quote is often a case of "buy cheap – buy twice". Incorrectly pruned trees usually require repeat services within 12 months, or need remedial work to bring them back to healthy shape. Properly pruned trees save you money. We recommend repeat services for mature trees within 3-5 yrs and we guarantee the highest level of tree care and genuine respect to all our clients, their trees and their property.
And we promise:
Reliable, on time service from quote to completion.

Certified arborists who genuinely care about your trees

Friendly staff delivering a final cleanup that you will be happy about.

Ace's personal approach and guaranteed Australian standard tree care.
What Our Customers Say
testimonials
As a strata manager, good contractors are extremely valuable to my business. I have used Ace on a number of properties, for large and small jobs, and he is always professional, efficient and reasonably priced. He takes great pride in his work and focuses on customer satisfaction, as well as tree/garden health. Highly recommended
Ace and his team from fremantle have been looking after my garden and property since 2017 and I can not recommend their garden and tree services highly enough. Always professional and knowledgeable, as well as being friendly, efficient service and affordable quote. Ace's team always help me with the removal tree service for line clearance and does a great job with minimum time and fuss and I couldn't be happier with their services!
Ace and his team were organised and efficient, I couldn't believe how fast they were completing my tree removal, pruning and tree trim! Amazing customer service experience from Ace, he's friendly and professional, gave us some great advice on tree care and removal. We'll be recommending everyone to get Ace's Tree and Garden Service for all removal tree services, power line clearance, and garden needs, will use their removal services again ourselves. Thanks Ace!
Ace, you and your team did a fabulous job removing problem trees for power line clearance and tree shaping. I was surprised at how tidy my property was when you left. I will recommend your tree removal, tree lopping and all tree services to friends as a thoroughly professional and cost-effective tree removal and tree care business.
Ace has been caring for a large vegetated block for me in Shelley, one of the suburbs of Perth Australia. He does an excellent job in in tree removal and maintaining the palm trees, bushes and grasses to comply with local government requirements such as bush fire clearance and power line clearance. He and his team are reliable and efficient when you need a tree removal and all tree services. Ace has liaised with neighbours and local government officers very successfully on my behalf which saves me much time and effort. His quote and service prices are always very reasonable and I don't think you could get better tree services than that.
I have been using Ace's Tree and Garden Service for the last 5 years—and compared to the other removal tree work and tree services I've used in Perth and all its suburbs—it's truly an 'ace' tree service! My house is on a small block with very restricted access. They offer small pruning service to tree stump grinding and large tree removal. Ace and his tree arborist team have always been a big help when it comes to trees, knowledgeable, professional work, safety conscious tree removal care, tidy, polite and considerate service. You're not just getting someone to 'lop' or remove your palm trees but an arborist team with experience that truly care about the tree and the health and welfare of the people. I can't recommend Ace's Tree and Garden tree removal service highly enough.
Ace and Dan provided an excellent and safe pruning service. Ace was well prepared and knows what needs to be work on, gave us a quote 2 weeks early. He and Dan did a big job and didn't even need a lot of time because they finished the job in only an hour and a half. I was worried about my fruit trees and how they would look (the trees were leaning over the back fence). I need not to be worried, the arborists did a thorough but sensitive prune and the trees are very shapely now but safely off the neighbour's fence line and roof. We will definitely call Ace for pruning or lopping services again!
I have used Ace's Tree & Garden Service on several of my building projects when I require a large tree to be removed. He is always quick to provide a competitive quote for the work and always sticks to his price. He is easy to deal with and his workers are mindful and do excellent work. I would highly recommend using Ace's tree & Garden Service for a professional job and positive experience.
I've been using Ace's services as an arborist over the past five years. During this time I have found him to be knowledgeable and highly professional in his field. No job is too big or small and his advice is second to none. I don't hesitate to recommend Ace to others when it comes to tree pruning, looping or clearing.
Trees enhance the life of our family. Have a stunning Poinciana in our back yard and a lovely white gum in the front. I ask Ace to prune both each year. Keeps growth away from the gutters and maintains their form.  My Granddaughter was married under the poinciana last year - stunning space! Can highly recommend Ace for quality and reliability when it comes to shaping trees for the long term!
My real estate agency has used Ace and his team at Ace's Tree & Garden Services for the past 10 years for both our residential and commercial clients. Ace is customer service focused, which makes our job as property manager's that much easier, when having to deal with landlords and tenants. Ace ensures that everyone one is communicated with and is team are always super friendly and the best part – they turn up on time and clean up after themselves. The feedback from our landlords has all been extremely positive about Ace's work.
I've used Ace's Tree and Garden Service for around 7 years for pruning trees on various properties.  Being a greenie at heart I have always been interested in, and valued Ace's knowledgeable approach to pruning.  Due to Ace's help our trees look cared for, beautiful and we live with them in harmony. Ace and his team are always friendly and professional no matter how difficult the task, they take care when removing branches down the sides of your property so as not to scratch anything and do the most amazing clean up on completion of the job!  And YES I have price checked jobs a couple of times over the 7 years and they are very reasonable! I have recommended Ace's Tree and Garden Service to my friends and family and I recommend it to you.